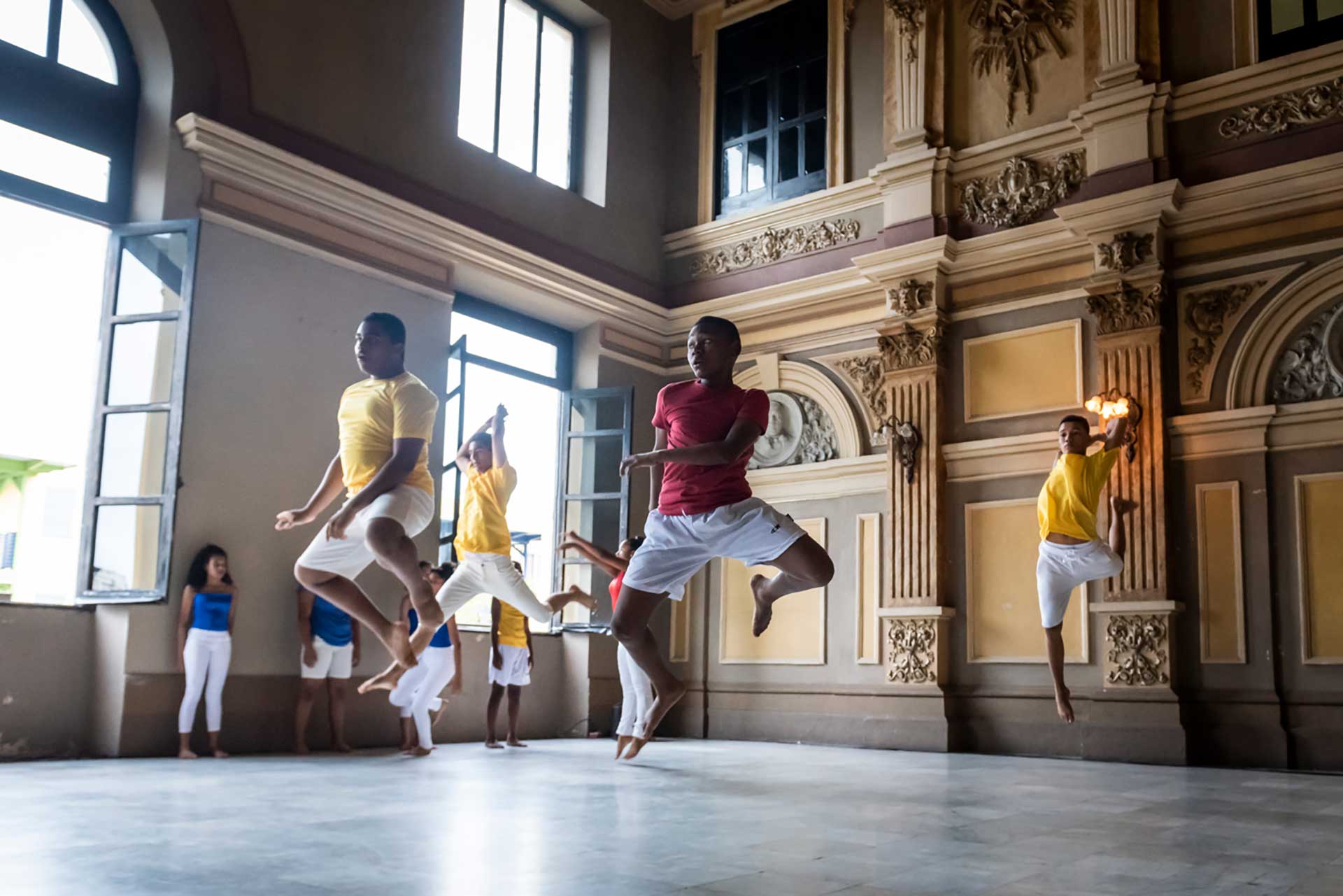 This program focuses on integral attention, from Monday to Saturday, which includes artistic formation, emocional attention, participation in classes, as well as individualized attention in their nutrition, physical and mental health and the empowerment of their families.
The main focus is to develop the technical abilities of the students, as well as their artistic sensibility and ability to create. At the same time, the students count with academic and psychological support. The program is divided in two phases, as per age groups:
Teens 12 to 15 years old: the program focuses on transforming. We strengthen their leadership abilities, communication, assertiveness, as well as their formation in dance, performing arts, and cultural activities.
This period of their age is a crucial age in which dance is the main force that could become their chosen career for the future.
For teenagers from 15 to 18 years of age: the emphasis is in polishing. Helping the students focus on their professional futures. The students that are a part of this program con chose to train in For Dance or With Dance, as per their chosen vocation.
With Dance: The students receive academic and vocational training, which includes accelerated courses of study, classes in computer science and English, for their preparation for college. With them there's an emphasis made on material related to project management, the development of soft skills and planning in accordance to their chosen career paths.
For Dance: The objective is to form dancers of high caliber with a professional level recognized internationally. These students are the ones who desire to pursue a career in contemporary dance. With them the hours of dance practice is prioritized and they receive mentorship from professional dancers. This way the students can apply for dance scholarships nationally or internationally.
Semi-Intensive Program Trampolín
This program is directed towards kids between the ages of 7 and 12. The group is made up of 15 to 20 students, whom each of them are selected from auditions.
During at least two trimesters the students receive dance classes twice a week with the support of group therapy sessions and workshops to promote emotional support. Once of month the students attend a group workshop with topics in regards to the handling of their emotions and self-care. They participate in group activities in accordance to festivities, events, and special visits. This way, the students grow in their cognitive abilities, their social awareness and potentiate their dancing skills and their interaction with the other students.
This program is an extension with the school Nuestra Señora de la Merced (El Chorrillo), in which we work on the formation of dance as a part of the study curriculum of kids in 4th, 5th, and 6th grade, as well as workshops on emotions guided to both the students and teachers.
As part of this process we hold a meeting at the beginning of the year with the school teachers to transmit our philosophy of ENLACES and share methodology that they can employ for the health of the students, applicable to other classes. We also share the benefits of dance and how it can affect their surroundings.
The teachers gather in monthly meetings called Enlaces Coffee in which they work with Social Workers.
Quarterly meetings are established with dance teachers and counselors to focus on which students:
Stand out for their technical and expressive skills in dance.
Need special support on an emotional level.
Require an intervention to work on a behavioral issue.
Trainings and self-care activities are held for teachers. Along these lines, a Saturday open dance class is coordinated for teachers on a quarterly basis.
The program sensitizes teachers to the performing arts through free tickets to dance or theater events.